Everybody stop what you are doing! Did you know February 9th is National Pizza Day? Stuffed crust, deep dish, or just old fashioned meat and cheese – this delectable pie can be enjoyed in so many different ways and it's a shame there is only one day dedicated to it. Pizza in itself is hard to top but FunnyShirts.org has just the thing for you die hard enthusiasts who want to commemorate this delicious holiday.  Get ready to treat yo' self with the best pizza shirts for National Pizza Day!
JK. LOL.
Pizza completes me.

Nothing but lust.
Life is so magical when I have you pizza.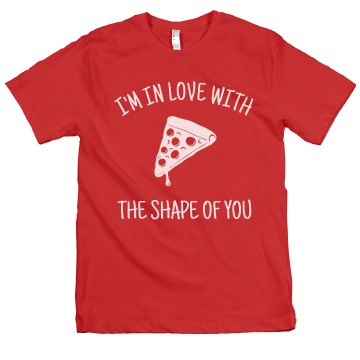 We push and pull like a magnet do.
Our pizza shirts are hot and ready for you customize with your own art and text. Choose your favorite from our gallery of hilarious and one of a kind designs and express everything you have ever felt about this tasty treat.  FunnyShirts.org offers the largest selection of custom apparel online that is ready for you to personalize with anything and everything you want. All you have to do is choose your favorite item of clothing. Love pizza so much that you need it every day of your life? Swap out any design onto a different product like a hat, phone case, or even pillow so you can experience the joy of pizza all day, every day.
What's your favorite style of pizza? Let us know and share your custom apparel selfies via Facebook, Twitter, or Instagram! @FunnyShirtsorg